New York—TV reality star Kim Kardashian is expanding her branding empire with yet another jewelry collection—Belle Noel, a costume jewelry collection that will launch in January 2011.
If you have been keeping up with the Kardashians—as if any one could avoid it—you'd know that Kim Kardashian has already collaborated with her sisters on a jewelry line with Virgins, Saints and Angels and has a line of diamond and gemstone earrings with Loren Jewels. La Kim is collaborating on a 75-piece collection with Pascal Mouawad, who has become somewhat of a specialist in reality star jewelry collections (he's behind Nicole Ritchie's House of Harlow line and Heidi Klum's line of fine jewelry). Her latest collection, which will retail from $11 to $150, is being pitched to department and specialty stores and online.
Kardashian told People magazine that her inspiration for the collection were icons of Hollywood glamour such as Carole Lombard, Sophia Loren and Julie Christie.
"Belle Noel was inspired by the true art of costume jewelry that became popular in the '30s. My collection ranges from understated, everyday pieces to bold, lavish creations," she says, adding that the looks aren't just for red carpet occasions. "I wanted to create a line where you could go from day jeans to a cocktail party effortlessly without ever having to change your jewelry."
Kim and her sisters, Kourtney and Khloe, recently signed with Jupi Corporation to launch a global brand that would encompass apparel, accessories and home furnishings. The initial range includes women's ready-to-wear, handbags, belts, small leathergoods and lingerie, all scheduled to hit stores in 2011. Knowing the sisters' appetite for publicity and budding entrepreneurship, no doubt Kourtney and Khloe will be expanding their presence in jewelry soon, too.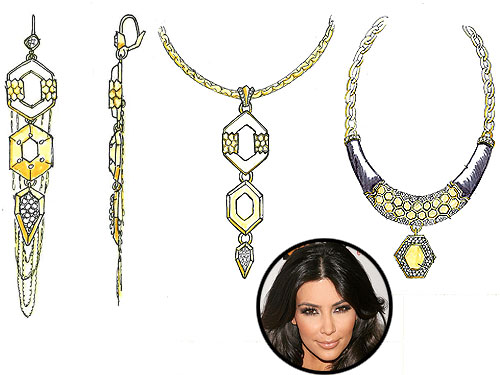 For commercial purposes, extract supplements can be obtained from the fruit of the pericarp. Garcinia cambogia reviews is performed by a physician Chen and Oz to prove that it is an herb for weight loss, a lot of research has been done. Studies, Garcinia cambogia extract supplementation decreases the weight of the body fat accumulation, was shown to have a positive effect on prevention. We are important substances such as cholesterol (LDL), reduces the serum leptin and triglycerides. In addition, it will increase the level of serotonin and cholesterol (HDL). The study also, Garcinia cambogia extract supplements, has proven that there are no significant adverse effects on many of the eight weeks, such as its use.